I'm probably going to go into more detail than necessary, maybe even to an excruciating level, but I'm thinking that's probably necessary in this case.
My experience using flash/thumb drives is pretty limited. I got tired of backing up everything on CD's/DVD's & bought 2 - 32 GB Cruzer Glides @ Best Buy on November 4, 2015.
I use them to back up tax returns, storm chasing pictures/GIF's/videos, my collection of scans, text files, etc. Approximately 250 different folders, & the drives work flawlessly.  *I also assigned passwords*
Here's what I see after I insert the drive & click on the ICON that appears on the desktop.
[URL=[http://www.imagebam.com/image/1f94d2721079083]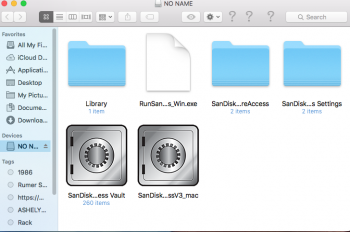 /URL]
Next I click on the SanDisk…ssV3_mac ICON shown on the screenshot above, enter my password, & the following comes up.
[URL=[http://www.imagebam.com/image/1a5a4f721079103]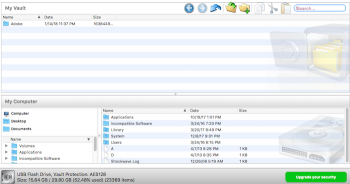 /URL]
Then click on Adobe & the following comes up.
[URL=[http://www.imagebam.com/image/3547aa721079123]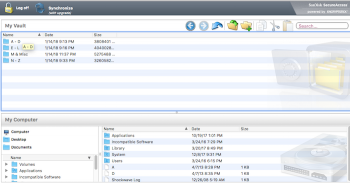 /URL]
So that works great. Now to the music.
My 2012 Ford Escape has a phone/media system called SYNC by Microsoft, which includes a USB port.
I decided it would be nice to transfer all my music to USB (Approx 300 songs) for listening in the vehicle.
Here's how I went about it. I bought another 32 GB Cruzer Glide @ Best Buy. I have exactly 20 singles on my IMAC that I purchased on iTunes.
Since it was only going to contain music, there was no need to set up a password. So the first time I put in the new drive & clicked on it, it looked just like the 1st screenshot I included above.
3 folders - One exe file - & 2 vault ICONS
I opened the folder with the 20 iTunes singles & dragged & dropped them directly into the window containing the 6 items listed above.  When they were copied, I removed the drive, took it out to my vehicle, & it worked. Next, I started on my CDs. These are all store bought. In other words, no music downloaded from Napster, Limewire, etc.
After that, I created a temp folder & began selecting & dropping songs from the Cd's into it. Every time I'd put a new CD into the MAC, iTunes would open up & suggest that I copy all of the songs there. Since many of the CDs only contained one or two songs I wanted to copy, & I didn't want to do that, I just closed out iTunes & double-clicked on the CD ICON until something else opened it. However it only contained the number of tracks, not the actual song names.
When I was done, I had copied about 90 more songs. I dragged them into the SanDisk window. I also made some individual folders. For instance, a George Carlin comedy CD with about 15 different tracks. All the songs play while I have the SanDisk stick plugged into my Mac, but trying to play them in the truck just turned into a total quagmire.
This is probably the key. At some point I thought that maybe the 6 items shown in the first screenshot were somehow interfering with the ability of the SYNC system to play the tracks/folders, so I highlighted & deleted them. Now, when I insert the SanDisk stick, & click on it, it's opened by 'finder'
Here's a screenshot.
[URL=[http://www.imagebam.com/image/1b70f9721079153]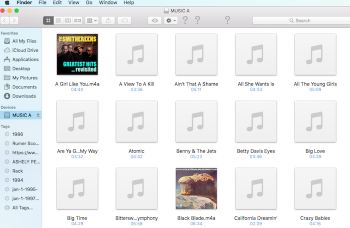 /URL]
It's pretty obvious I have things all screwed up

Would really appreciate any help/suggestions.
Thanks in advance!
PS: If anyone replies to this tonight, I probably won't be able to respond until tomorrow afternoon.
Thanks again