I just purchased this Extreme 45mb card  from Best Buy for $19.99 on cyber Monday.
http://www.bestbuy.com/site/sandisk-extreme-16-gb-secure-digital-high-capacity-sdhc-1-card/1066224.p?id=1218216030373&skuId=1066224
But what I received was this card below left in the factory sealed package like all cards:  SDSDXS-016G-A46   80mb on both
…What I received…vs…Here is the new packaging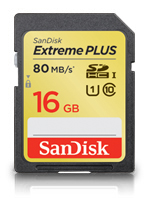 I chatted with an excellent Sandisk tech person (Kudos Jacob K.) and he said mine on left is simply the old labeling.  The Sandisk web site does not show this "Extreme" 80mb card.
The card I received for $19.99 is actually an EXTREME PLUS card with EXTREME labeling and pricing.    Correct??
1.  Can someone clear up this labeling confusion any more?  When/where did this Extreme 80mb labeling exist?  Is this card really old?   The back shows 2013 copyright.     Extreme 80mb vs. current Extreme Plus 80mb is confusing?
2.  My new camera is a Canon S110 which "might" run fine with just the Ultra 30mb.  Is this 80mb card any problem for the S110 or my old computer that is probably 2.0 not 3.0 USB.
3.  Regarding card speeds:   Can this faster card, i.e 80mb vs. 30 or 45mb, be a worse choice for any reason?   Reliability, data accuracy, lifespan, etc…    I ask because sometimes bigger is not better.  I remember studying writeable DVD's years ago and sometimes the slower versions actually performed better than the newer/faster versions.  
Thank you very much for clearing up my 3 questions.    My last OLD camera was a compact flash card, so I am catching up a LOT regarding my ancient tech. savvy.